We have reached 100 visitors on our Blog!!!! We are so excited we are doing a Giveaway!!
Enjoy this cute saucer on your wall or mantle!
This is a pink depression glass saucer in the Queen Mary pattern, also known as Prismatic Line or Vertical Ribbed pattern. It was produced by the Anchor Hocking Glass Company between 1936 and 1949.
A GREAT piece to start or add to your collection! - This pattern is fairly easy to find & most items remain affordable. The pink and ruby items are generally considered to be more valuable than the clear.
Did you Know???
Depression glass was often distributed free or at low cost around the time of the Great Depression. Food manufacturers put a piece of glassware in boxes of food, as an incentive to purchase. Other businesses would hand out a piece simply for coming in the door. Most pieces was made in the central and mid-west United States.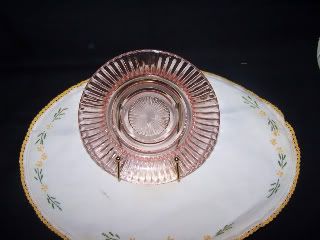 Just leave a comment here and we will draw on Saturday, January 30 at 5:00 p.m. MST