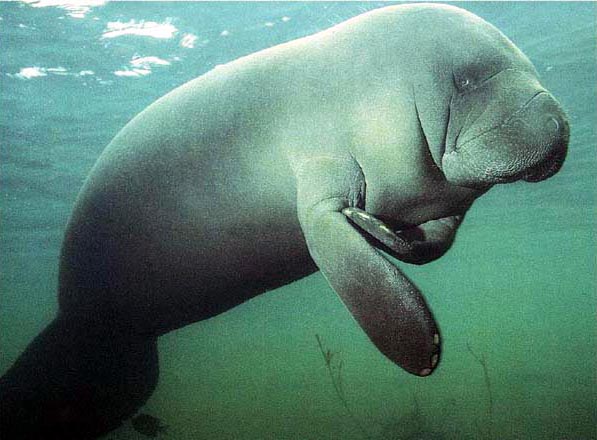 During my recent trip to Central Florida, I had the privilege of swimming with the Manatee in the Crystal River. They are magnificent, fascinating animals.
While in the water, I was approached by a female with her calf. She presented her back to me and I was allowed to pet her with one hand. She put her face to mine and turned her head to look at me with her cloudy blue eye. What happened next was amazing. These mammals are visited daily by many humans. The people are there for the "experience" of swimming with wild animals. We are in their world and they allowed us to be there. They are more than capable of removing us from their presence in a blink of their eye.
The manatee cow, after perusing me and somehow satisfying herself that I was an acceptable human being, rolled over and presented her belly to me. According to the boat captain, this is not as common as one would think with the incredible amount of visitation on these animals.
As I was rubbing the stomach of the cow, I noticed her calf approach her and begin to nurse. It was at that moment that I realized that my purpose for being there at that time was not for the swimming "experience" that a human craves.
My reason for being in that lovely crystal clear spring with its stunning assualt to the senses and its outstanding residents was simply an opportunity for one mother to reach out to another mother and draw energy from each other. She was in her child-rearing years, while I am in the empty nest stage of motherhood.
She taught me that no matter what stage of life you are in, there is always another mother to nurture you. Always someone else who feels your pain, knows your struggles, and most of all share your joy.
Please visit www.manatees.net to learn more about the Floridian Manatees.